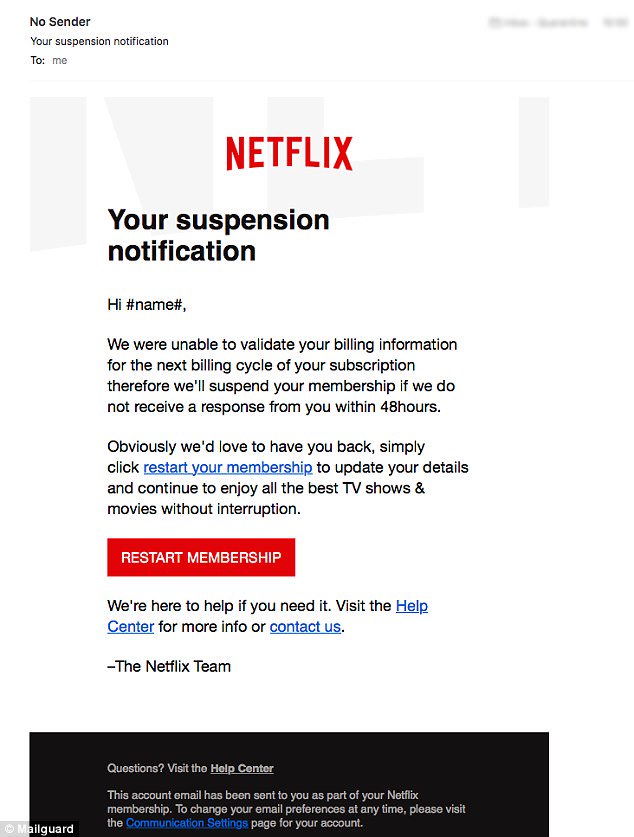 An email scam is hitting millions of Netflix subscribers worldwide.
The email, titled "Your suspension notification," is designed to mirror real messages from the streaming website. The fake notice informs users that their subscription will be suspended because their billing information can't be validated.
"Obviously we'd love to have you back, click restart your membership to update your details and continue to enjoy all the best TV shows & movies without interruption," the email reads.
It then prompts users to click a red button that reads "RESTART MEMBERSHIP," which opens up a mock Netflix webpage that asks users to log in to their account. Subscribers are then asked to enter their billing information.
According to MailGuard, a website which tracks email security issues, this scam is relatively well-designed and could fool some users. It could target any of Netflix's approximately 100 million users.
In an email statement to Global News, the company said it takes the security of its members seriously.
"Unfortunately, these scams are common on the internet and target popular brands such as Netflix and other companies with larger customer bases to lure users into giving out personal information," the email read.
Netflix advises users to be aware of phishing attempts on its website, saying hackers "may create fake websites that look like Netflix, or send emails that imitate us and ask you for personal information."
It says a real email from Netflix will never ask for payment information, social insurance numbers, or the account password.
Post Source: Global News 

http://imperialsecurity.ca/wp-content/uploads/2019/03/Imperial-Security-Logo-2.png
0
0
webadmin
http://imperialsecurity.ca/wp-content/uploads/2019/03/Imperial-Security-Logo-2.png
webadmin
2017-11-09 14:15:29
2019-03-06 21:37:32
A fake Netflix email wants users' billing information — don't click it